JEUX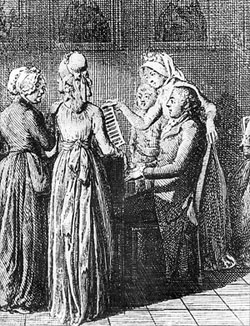 Pages devoted to my favorite harpsichord music, realized for General MIDI. I have tried to limit these to unfamiliar pieces that are not as well known as they should be. Unfortunately, the quality of the GM Harpsichord patch varies tremendously, and I have yet to find one that reproduces the seductive quality of the best instruments. Part of the problem is that most samples have been recorded far too close to the instrument, producing a very noisy attack.
For my own use, I have modified a patch from the Chaos GM soundfont, increasing the length of time that a held note continues to sound, and decreasing some of the attack noise. With a little more work, this experiment has led to a new Hpschd soundfont. The new soundfont will be available for downloading on the HammerSound web site. If you load it in bank 40, you will be able to play the MIDI arrangements that I will be posting here. Click to see the stop list and other details.
The first section below contains GM realizations of harpsichord music; the bottom section of this page is reserved for pieces realized for the Hpschd SoundFont.

—John W. McCoy
---
General MIDI (GM) Realizations
French Harpsichord Music
German Harpsichord Music
Italian Harpsichord Music
English Harpsichord Music
Polish Harpsichord Music
---
Realizations for the
Hpschd

SoundFont
Dutch Harpsichord Music
About the same time as the Fitzwilliam collection in England, there were similar keyboard works being written into Dutch virginals collections. In some cases, the tunes are the same, but the settings are different. Most are anonymous. The most popular tune seems to be "Daphne", which shows up in many forms, here as a Courant "Daphne", along with another popular ditty, Rosemont.
English Harpsichord Music
German Harpsichord Music
French Harpsichord Music
Italian Harpsichord Music
---
Click here to send me E-mail!